Exquisite Craftsmanship. Timeless Design. Unparalleled Quality.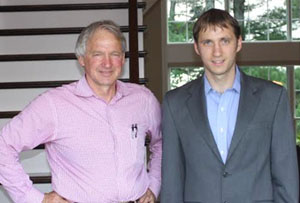 Century Builders founder, Jim Sieradzki, has been building award-winning custom homes for more than 35 years. Earning an unrivaled reputation for exquisite craftsmanship, timeless design, and unparalleled quality. Century's care and quality will shine long after you move into your home and accounts for our hundreds of referred and repeat customers.
Should you build your dream home or buy a move-in-ready home?
While some people enjoy the creative challenge of a blank canvas, others prefer to focus their attention on making changes to an existing masterpiece. Whether you're a creator, renovator or an embellisher, we have a variety of homes and home sites in sought after communities to fit with your needs.
---
To some prospective home buyers, the words "dream home" evokes images of building a custom home just the way they want it. The thrill of selecting a floor plan that suits the way they live, choosing home design details that express their style, and working with a builder to realize their vision is the experience they seek.
If you are a home creator, now is your time. Century provides expert professional guidance every step of the way. With Century Custom Builders you can:
Completely tailor your home to fit your life
Select colors, materials, and textures that reflect your style
Choose a floor plan for your family or entertaining needs
Experience our worry-free building process
Count on our 10-year structural warranty
Rely on every Century home being green from the ground up
Ready to build your dream home to order? Browse our Communities or visit with our design team at our Mishawaka office.
---
Location, location, location!
Communities are not one-style-fits-all. Your community should reflect who you are and how you want to live. Choosing your community is as much a lifestyle choice as your beautiful home's floor plan or design.
---
Century Custom Builders offers home sites and ready-to-move-in homes in communities that meet a wide diversity of needs. From active outdoor lifestyles to the bright lights of nearby cities; from family-friendly communities to those with quiet streets and space for reflection: Century Custom Builders offers a variety of locations throughout South Bend, Granger, and beyond for a variety of lifestyles.
Here are a few considerations when looking for a community:
Do you prefer country living? A quiet suburb? A neighborhood closer to the city?
What do you (and your family) like to do in your spare time?
Do you have school-aged children? How long will they be in school?
Is your home primarily a place for gathering or more like a quiet sanctuary?
What kinds of amenities do you look for in a neighborhood?
To explore the many Century community options available to you, check out our Communities.
---
If you already own your prime perfect location and are ready to turn your plot into the custom home of your dreams, Century Custom Builders is ready to help you, from concept, planning and design, to building an outstanding luxury home step-by-step. The difference in our award-winning houses is in the exquisite individual detail and finish.
---
Our logo isn't the only thing that's green
Sustainability has been a way of life for Century Custom Builders long before it became a fad. Jim Sieradzki started building energy-efficient homes in the 1970's during the first energy crisis
---
Century Builders has LEED accredited professionals on staff and the experience to get the project done.
President
Inspired by a passion for architecture and design, Jim has been building custom homes for the past 30 years. As a result of Jim's focus on quality craftsmanship and design, Century Builders has become the well-respected luxury home builder that it is today. Our customers appreciate the standard of quality that Jim has required of Century Builders and benefit from these standards from inception through realization of their new home.
Vice President
David is focused on bringing sustainable design and construction to the South Bend area and has several years of experience working in both large Fortune 500 companies and small customer focused firms. He has held the titles Project Manager and Land Development Estimator from Florida to Wyoming. After graduating from Vanderbilt University, David received his MBA from Daniels College of Business in Denver, Colorado. He is a LEED Accredited Professional and is a Board Member of the Home Builders Association of St. Joseph Valley.
Construction Manager
As Construction Manager, Phil oversees scheduling and on-site supervision of our builds to ensure the most timely and efficient process. Hailing from Purdue University in West Lafayette, he gained his degree in Building Construction and Contracting. Starting out with working summers as a teenager, Phil now has over 24 years of experience in the construction field, with jobs ranging from commercial and multi-family to single-family residential.
Office Manager
Since 2002, Conny has filled the position for Century Builder's Office Manager. Coming from a background in all aspects of accounting as well as real estate as a former agent, her expertise provided Century Builders with an excellent foundation for this position. Excelling in her studies at Ancilla College in Grovertown, Indiana, she carried a 4.0 average, was nominated for the Dean's List, and was a member of the Phi Theta Kappa International Honor Society. She carries her devotion of excellence to the clients of Century Builders to ensure their building experience will be the best possible during the entire process.